I've "known" Jonathan Dorf online for years as a playwright and co-founder of YouthPLAYS, but it wasn't until I heard him on George Sapio's Onstage/Offstage podcast that I realized what a marketing guru he is. Naturally, I asked if I could pick his brain about his work and business,  and ask him to share his best marketing practices with fellow playwrights. He generously obliged.
Just for some background, how did you become a playwright?
I was the editor of my high school newspaper, and was writing poetry, songs, articles, and some short stories, and, in my junior year, my advisor said, "You've written everything else; why don't you try a play?" So I did, a one-act play called "The Storm," which was then done at my school's one-act festival, and [may have been] the first student-written play produced at the school. It got a very good reception.
And yet when you went to Harvard, it was to pursue law, not playwriting?
No, but there was all this extracurricular drama going on, where a slow semester had something like 25 productions going up, and a busy one might be 40. It was a mix of originals and [established work]; I saw Matt Damon do a production of BURN THIS. I mounted 14 shows of varying lengths, all student-produced and student-driven. It was fun, and it was one of those things where nobody was saying no; anything you wanted to do, you could do. I did my graduate school at UCLA, and I remember some undergrads wanting to mount an extradepartmental production, and how hard it was to find space; if you have a strong theater department and want to do your own thing, it may not be easy. But Harvard is a land of self-starters, and when you have a lot of people who are passionate, and nobody is saying no… When I arrived, I thought I was going to be a lawyer, but after seeing Harvard Law School's vaunted moot court, as fun as it was, I knew that I wasn't going to be a lawyer. At the end of sophomore year, I created a special concentration in dramatic writing and literature; I created my own perfect course of study.
And then it was off to LA to write movies… or at least that was the plan.
My parents said, "If you wait six months, you can have a car," so I waited, but I got bored while I was home, so I wrote letters to three different schools offering to teach a free playwriting workshop. Haverford called, and apparently, I had shown up just as they were looking to hire a full-time drama teacher. I went to visit, met the headmaster, and I see a Harvard magazine on his coffee table, so we had an immediate connection. I went on to teach five more years before I hit the wall: I was also head varsity tennis coach, and I was so stressed that I lost weight and just felt I needed to make a change. I'd been looking to go to graduate school anyway.
Is that where you got interested in theater for young people?
Yes, because I wanted to do these shows that couldn't accommodate all the people who were interested in being in it. I did Arthur Kopit's END OF THE WORLD, and I wrote a curtain raiser for it, "Pepperoni Apocalypse," which is a ten-minute play that is now published with YouthPLAYS, and I wrote "Twisting Carol," which was published by Playscripts, and that was my gateway into writing for young people.
How did you choose to make it your specialty?
When I took a year off to write grad school applications, around the same time, two things happened that eased me into making writing for young people my focus. One, I was commissioned by Choate Rosemary Hall Summer Arts Conservatory to write a new play for students who ranged from ten to 18; I did that for three years from 1999 to 2001, and two of those plays are still in circulation. In fact, one of them, DEAR CHUCK, has become one of my most produced plays. Two, I got commissioned by the Walnut Street Theatre to write a pair of touring shows. One was kind of a one-off because it involved rights to several songs, but the other, FROM SHAKESPEARE WITH LOVE?, has gone on to numerous productions. By the time I started at UCLA in 2000, my writing for young people was in earnest.
I recognized I was sort of good at it; I've been told I wrote their voice and their dialogue well, and there's a lot of stories that need to be told and talked about. We get enough from an adult perspective, but what is the perspective of younger people?
I also discovered there was a burning need for stuff that is decently written, hopefully more than decently written. We get a lot of submissions, and, frankly, most are not. Finding material for young people that is not patronizing, that gives them opportunities to take risks as actors, and also gives them opportunities to play roles that are age appropriate is the challenge. We don't need to see a 17-year-old play Willy Loman; I don't at least. So one of the reasons behind YouthPLAYS is finding plays that have significant age appropriate roles for young actors; we want to give them practice playing people they could actually be cast as.
What prompted the start of the company?
I had written these plays and needed a better marketing angle, a way to get them to stand out. YouthPLAYS was a good url—it's hard to find stuff that wasn't taken—so I bought it for me, Ed Shockley, and Matt Buchanan, so we could put our plays up, and give them a little extra push. What ended up happening is we realized there were other good plays out there that weren't getting picked up by major publishers, so, in 2010, we started taking on other writers. We now have more than 175 people we rep, and more than 400 plays.
Dorf founded YouthPLAYS with Ed Shockley and Matt Buchanan.
And there it is: the marketing genius that you've so kindly offered to share. I often talk about marketing as well—primarily focused on how to submit work—but of course there's so much more to it, and that seems to be what stymies playwrights.
It's a big challenge. For everybody. Mine has become more youth specific, but there are a bunch of things that playwrights can do to market themselves. I don't know if anything I'm going to say is necessarily a revelation but sometimes it helps to hear it again, so you say, "Oh yeah, I really need to do that thing."
You advocate for personal websites.
Any playwright should start with a website, and you need one that doesn't just tell people about you, because at the end of the day, nobody cares about you; they care about the work. On my website, every play has its own page. You can read samples, and, if it's published, I link directly to the publisher's page. And you have to be proactive, and make sure you're keeping an eye on it, so you're not ending up with broken links.
I also try to pack the website with things that will bring people there. For some, that might be a blog, but I love writing monologues, so I have a whole section on my site with free monologues and scenes from my plays that people can use in classrooms and for auditions, and all I ask is that you add your name to my email list; that's the payment for using it.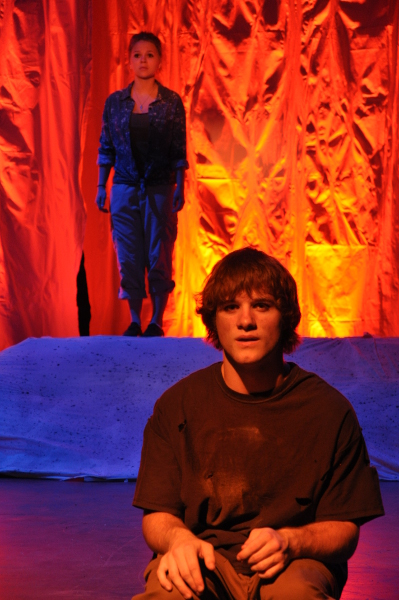 The world premiere of RUMORS OF POLAR BEARS at Capital High School (Helena, MT)
What do you do with the email list?
It goes to everybody who has produced my plays, people who have used my monologues; it's important to have an email list and build that sucker up. You've got to get stuff out there. I write to people but I don't want to be a nuisance or spam, so, like I'm writing one today because I have a new ten-minute parody, and I want to offer them a free perusal script, a non-printable digital copy. Then they feel like there is some value in being on my list, because they can get free stuff, but it also promotes the play, and the entire collection that it's in, and adds a little buzz, and says, "I'm still here."
When I send out those emails, I go back and plug other plays. If you're looking for things, there's a good chance I might have what you're looking for. I might send a playwriting tip of the month or playwriting tip of the email, which is a good way to offer value added; if they can get some exercise they can use in their classes, that's another reason to want to reach the end. I also offer monologue a month, which is giving value, but I'm also promoting my own play.
If I can tell people about new plays I'm working on, it's a great place to fish for a reading or a world premiere. That's what I did with ME, MY SELFIE & I.  I had finally finished it, and said, "I'm really looking for a fall premiere, the earlier the better," and I got multiple requests to read the script, and selected two in California to do the co-world premiere. That was the power of the list.
You also have individual play websites.
If you have a play that is noteworthy or has a fair amount of marketing potential, why not? I have a number of plays like that. You can link to that play from your main site, and from that site to your main site. If you can have a whole group of sites—I think of jonathandorf.com site as kind of the sun, and the play sites orbit around it and all work to promote each other—the play sites can also have value added. For THANK YOU FOR FLUSHING MY HEAD IN THE TOILET, I created a study guide, and that study guide is available on the site.
Oh! When your play is produced, get photos. Good photos really help sell a show, because they grab people's attention and say to prospective producers that "we can do this" and "this will be fun," in addition to making the obvious point that other people like the show enough to want to produce it. When I have a new play, part of the deal if you get to do the premiere is that you agree to help ensure that there will be good photos, and that I will have access to them for marketing purposes. This all goes back to maintaining an email list and getting in touch with those producing your work: this way, you can ask them for pictures!
Offering more, communicating… always.
If you're producing one of my plays, you're also likely going to get an email from me; people appreciate hearing from the playwright. It's surprising to them, and part of that is you're developing a relationship, and the hope is that in talking to them about that play, you're going to get them to like another play, or another down the road.  Some publishers give you the email of the people doing the work, and that's really helpful. If you don't, you can try to do the research, though that can be daunting at times.
We've interacted a lot on Official Playwrights of Facebook? Are you a big proponent of social media?
We're all still trying to figure out what the best social media avenues are. I have a Facebook fan page, and Twitter and Instagram. One thing I'd like to experiment more with is YouTube, and figuring out whether video is attractive. The main thing is getting that email interaction, because if you tweet or Instagram at the wrong moment, it doesn't get as much traction.
Another thing we created is produceaplay.com, a free how-to-produce-theater site. The people who will come to it are people looking to produce plays, so there's all this free content from people who are experts in their fields. The primary goal of produceaplay.com is to provide free info for theatre producers, but it's also there to market YouthPLAYS. The idea is that if we created a site that has valuable content and simultaneously put YouthPLAYS in their heads through the background ads, everybody wins. Sometimes you just bluntly say, "Hey, this is my new play," and sometimes, you want to create that buzz where if they see it in enough places, the first three are no, but the fourth time, they say, "I should check this out." You have to create opportunities for people to come in contact with your work, remind them that you're out there, and that you have new stuff.
Dorf's HARRY'S HOTTER AT TWILIGHT at Alhambra High School (Alhambra, CA)
At what point do you recommend getting a play published?
You really should get your play produced first, or at least have a very elaborate workshop. You would never buy a new car without driving it first, and when you write a new play, no matter how well it plays in a reading, it isn't going to work quite the way you want it to work. Production is the opportunity to work out problems before they become permanent. And it's important to have more than one performance because things go wrong, or you can have an audience that, for whatever reason, is having a weird night.
Are you looking for anything specific right now?
I would love some really good vignette style plays, along the lines of DEAR CHUCK or KNOW YOUR ROLE, we would love love plays by writers of color, and plays about issues of concern to communities of color. We would love plays that are bilingual, plays that have Latinx themes that are bilingual, that have significant Spanish in them that fit our mission. The first best thing people should do is get on our website and read some things we've published; we're very specific. There's nothing we hate more than a writer who wants us to spend our time and money reading a script when they haven't spent any of their time finding out who we are. And learn how to format; show me that you know what a play looks like.
Once a play is published, what can a playwright do to help market it?
A mistake a lot of writers make is that they think once the play is published, their job is done. Newsflash: the publisher's job is to market the brand. Yes, we'll email, tweet, bring it to conferences, we may Facebook or Instagram about it, put up monologues in our free monologue area, but, as a writer, you should be doing all the things I talked about doing. You can't do free copies once it's published, but you can send an email to your list, have an excerpt on your website, or link to the publisher's excerpt. You need to promote that play in some ways like it's not published, the same way you would promote an unpublished play.
As a writer, I work just as hard on published plays as unpublished plays. When a play is published, you and your publisher become marketing partners. It's not their job to market your play; the person who is always going to care the most about your play is you. We are small, but we have 400 other plays. Playscripts has 2,000 other plays. Your play is not their concern, because they don't care if somebody picks your play or another play in their catalog. Your job is to keep pushing your work, and I wish more playwrights realized that.
If you plan to attend a conference, let the publisher know because they can stock extra copies of your play. I have gone to conferences, and hung out at the Playscripts table, and it helped sell all my Playscripts plays, because I can talk about them, I can sign them. It's a big deal. The same thing is, of course, true when I'm at the YouthPLAYS table. I may be the publisher, but I'm still an author too. Too many forget that the writing part of the business is only, at most, half of the business. It's great to write a great play but it's like that tree falling in the forest.
Please follow me on Twitter @donnahoke or like me on Facebook at Donna Hoke, Playwright.
Playwrights, remember to explore the Real Inspiration For Playwrights Project, a 52-post series of wonderful advice from Literary Managers and Artistic Directors on getting your plays produced. Click RIPP at the upper right.
To read #PLONY (Playwrights Living Outside New York) interviews, click here or #PLONY in the category listing at upper right.
To read the #365gratefulplaywright series, click here or the category listing at upper right.
For more #AHAinTheater posts, click here or the category listing at upper right.